It"ll be unveiled September 6, outside Air Canada Centre in Maple Leaf Square.
A 10-metre granite bench where past players will be honoured.
The first was announced today – Ted Kennedy.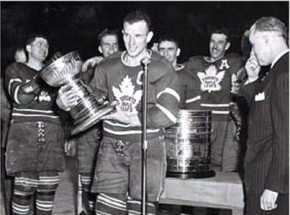 "Teeder" spent his entire 14-year NHL career with the Leafs, including eight as team captain.
He won five Stanley Cups, a Hart Trophy as league's most valuable player and was inducted into the Hockey Hall of Fame in 1966.
Kennedy died on this date five years ago at age 83.
Two other former Leafs will be named at the club's first fan fest in September.
The rest of the bench will be filled out – to about 10 players – by the franchise's centennial season 2016-17.