Fans of Robin Williams are still coming to terms with his sudden death.
Late night TV host Jimmy Fallon paid tribute to his friend last night.  He was visibly shaken during the opening of his show, but then got some laughs when he did an impersonation of Robin Williams' fast talking improv.  Fallon called Williams, "the Muhammed Ali of comedy."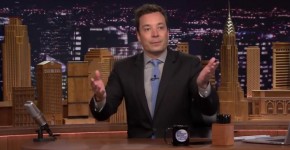 (Jimmy Fallon talks about Robin Williams as he pays tribute to the iconic comedian)
He also played a clip from Williams' first appearance on Johnny Carson's Tonight Show in 1981 and then stood on his desk to declare "O Captain, my captain, you will be missed" – a reference to Robin Williams' Academy Award nominated performance in Dead Poets Society.
Click here to watch Jimmy Fallon's tribute to Robin Williams.  With many late night hosts on break this week, few have yet reacted on air to Williams' death on Monday. Conan O'Brien actually delivered the news while recording his show Monday.