The Cronut burger incident is being called a thing of the past by the CNE's General Manager.  David Bednar says this year's CNE brings some health policy changes after last year's food related illnesses.  "I'm absolutely confident that people can have the confidence that they need to go to the CNE and enjoy a meal and not get sick," Bednar reassured.
Last year, more than 200 people got sick at The EX.  Toronto Public Health inspectors found jam used for the infamous cronut burger was contaminated.  Bednar says "the changes in the protocol for this year have to do with off site preparation, storage and transportation.  Twenty City of Toronto public health inspectors will be on site and they are scheduled to visit each food both at least twice.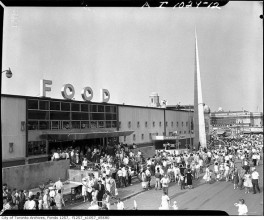 (CNE Food Building, circa late 1950's)
The Canadian National Exhibition begins on Friday and continues until Labour Day September 1st at Exhibition Place.  The full range of menu items will be unveiled today including peanut butter sriracha balls and the Thanksgiving waffle.  Both are being offered by Toronto institution Fran's, a 75 year old restaurant chain open 365 days a year.