Canadian superstar Celine Dion's suspending her career to focus on family – specifically the ailing health of husband Rene Angelil.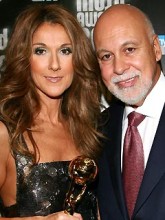 The 72-year old Angelil had surgery last December to remove a cancerous tumour.
The 46-year old entertainer released a statement saying it's been a "difficult and stressful time" trying to fight the disease while raising three children and balancing her career.
The statement also says she's been struggling with an inflamed throat that's kept her from performing her Vegas shows since July 29.
All of her shows at Caesars Palace have been cancelled until further notice.
She's also cancelled her tour of Asia, scheduled for the fall.