Dr. Peter Pisters is eager to take on the role of President & CEO of University Health Network.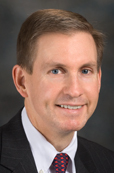 He's currently Vice-President, Regional Care System at the University of Texas MD Anderson Cancer Care Center in Houston.
The facility's ranked as one of the top two cancer centres in the US for the past 25 years.
Pisters is an internationally recognized surgical oncologist who graduated from the University of Western Ontario with a BSc in Biology and doctorate in medicine.
"My wife Katherine and I are so excited to be returning to Canada.  We are so fortunate to have the opportunity to join an organization that has so much history and momentum.  I cannot begin to tell you the joy and excitement that we feel !"
Pisters will join UHN January 1, 2015
His wife, a cancer surgeon, will also join UHN.