It was originally supposed to be a ten week engagement. But Audra McDonald's history-making performance as Billy Holiday is stretching to seven months.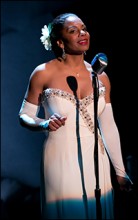 McDonald won a record sixth Tony Award for her starring performance in "Lady Day at Emerson's Bar and Grill." Producers have announced that the production, directed by Tony-nominee Lonnie Price, is being extended for a fourth time.
It will now run until October 5th. And this is apparently the last time it will be extended. After that, the Circle in the Square Theatre has been booked for a new play starring Hugh Jackman.