U.S. President Obama says America is limited in what it can do to discourage Russia's actions in eastern Ukraine.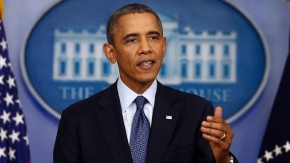 He says the U.S. has done everything possible to support Ukraine's government and deter Russia, but says short of going to war, there's only so much the U.S. can do.
He cites sanctions and says Moscow should want to take the necessary steps to have those lifted, but adds "people don't always act rationally," and ignore long-term interests.
The U.S. president says America must keep working to de-escalate the situation in Ukraine.