Bill Blair's tenure as police chief ends next April.
The Toronto Police Services Board has decided against renewing his contract.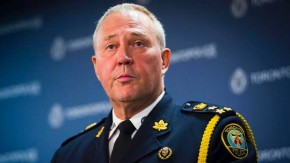 Blair, 60, has not commented but a spokesperson will only say the chief thanked the board for its consideration.
In a statement the board called Blair a champion of community policing, adding he's served the city admirably and tirelessly.
His tenure has not been without controversy.
There were the protests of the G-20 summit in June 2010.
Last summer, the police chief called for a review of the manner in which officers respond to those in crisis after the fatal shooting of 18-year old Sammy Yatim aboard an empty streetcar.
Then last last year the chief said he was disappointed to see a video that showed Rob Ford smoking what appeared to be crack cocaine.
That led to calls for Blair's resignation from the mayor's brother, Councillor Doug Ford.