Stephen Harper is reiterating Ottawa's hard stance against Hamas, saying it's solely responsible for the death and destruction in Gaza.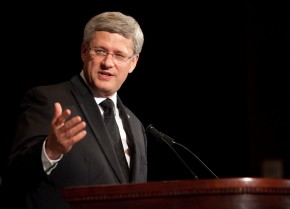 Speaking in Saskatchewan, the prime minister said while nobody likes to see the suffering and loss that's occurring, Hamas is to blame.
Harper calls it a terrorist organization that's ignited the conflict and continues it because Hamas seeks to destroy the state of Israel.
He adds if a terrorist group attacked Canadians, there would be a similar response from Canada.
The prime minister's comments follow criticism after Israeli artillery hit a UN school killing at least 17.
The attack was in response to mortar fire from the area.
Hamas has fired a total of 2,600 rockets into Israel since the conflict began.