It's now possible to hear the performance that won Audra McDonald an unprecedented sixth Tony Award.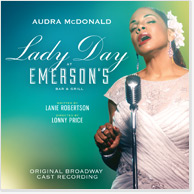 A live, 2-disc CD of McDonald's performance as Billy Holiday in Lady Day at Emerson's Bar and Grill went on sale today on CD and digital download. It was recorded during performances of the show from May 27th to 31st.
The play with music tells the story of Holiday's life during one of her last performances before her death in 1959, using the songs that made her famous.
The Broadway run of Lady Day at Emerson's Bar and Grill has been extended for a third time. It continues until September 21st at Circle in the Square.
You can listen to excerpts from the live recording here