Do you find it challenging to read the tiny print on some medications?  You're not alone.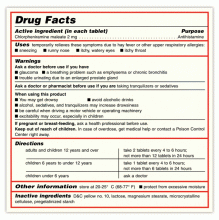 Some Canadian medical experts are calling for larger print drug labels.  They say trying to decipher dose instructions in small print on medications or over-the-counter drug labels can be a daunting task for people with impaired vision and can lead to potentially serious medication errors.
Susan Leat of the Department of Optometry at the University of Waterloo says not being unable to make out instructions on medication labels may also lead to a lack of independence.
But changes appear to be on the way.
Last year, Health Canada launched its Plain Language Labelling initiative, with the goal of improving the safe use of drugs by making medication labels and safety information easier to read.