A $23-million settlement deal reached between Sunrise Propane and Toronto residents affected by the 2008 Downsview explosion now has to be approved.  This is expected to take place in an August 7th court hearing.
The proposed settlement is directed at class members who were present or owned or leased or rented or occupied properties in the area bounded by Keele, the 401, Sheppard and Dufferin on August 10th 2008.
People who sustained physical or psychiatric injuries can claim for compensation between $500 and $50,000, depending on severity.  The Ontario Ministry of Health and Long Term Care will also be partially compensated for services provided to those affected.  If additional funds are left over, they will be paid proportionately to class members.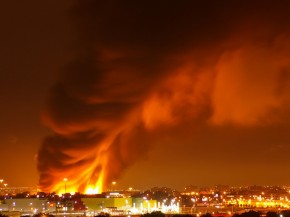 It was nearly six years ago when a blast at a Sunrise Propane distribution plant killed one Sunrise employee and forced 12,500 people from their homes in the Downsview community. A firefighter also suffered a fatal heart attack battling the blaze.  Video footage of the explosion showed a fireball in the black sky.