Hillary Rodham Clinton says she wishes she could go back and revisit some of her decisions but she is "proud of what we accomplished" at the U.S. State Department.
Clinton writes in an author's note released today that after the 9-11 terrorist attacks, lengthy wars and the Great Recession, "We needed to do better, and I believe we did."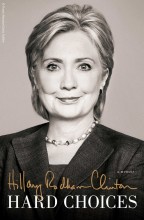 Clinton's new book about her time as U.S. President Barack Obama's secretary of state is called Hard Choices.   It'll be released June 10th. The book arrives as the former U.S. first lady considers a 2016 presidential campaign.
Clinton writes that she didn't write the book for followers of "Washington's long-running soap opera," but for Americans and people everywhere trying to make sense of a rapidly changing world.