Valerie Harper says she's "a year and four months past her expiration date" that she was given at the time of her terminal cancer diagnosis early last year.  The 74 year old actor was told then she had only three to six months left to live.  Harper spent time in Washington on Wednesday urging a U.S. Senate committee to commit more funding to lung cancer research and treatments.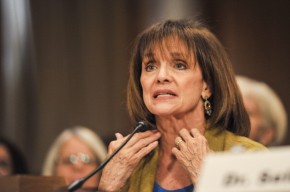 Harper told senators that she takes prescribed medications and other efforts in hopes of prolonging her life.  She explained, "I exercise, eat consciously (and) don't give up.  I have regular brain scans and whole body testing twice a year."  Harper said she also takes traditional Chinese medicine in the form of tea and has acupuncture regularly. She even engages in visualizing herself kicking out the cancer.
Harper also said her doctors were very aggressive in her treatments, which is why she said, more funding for research is needed.  Harper's 75th birthday is in August and the actress said she's determined to make it to the milestone date.