A song written by Felix Mendelssohn has been heard in public for the first time since it disappeared 140 years ago.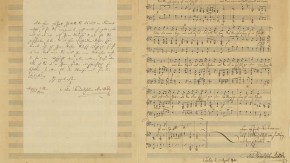 British vocalist Amy Williamson gave the first public performance of Mendelssohn's The Heart of Man is Like a Mine on the BBC. It was written in 1842 as a private commission, never published, and never performed.
The song is 29 bars long, written in A-flat major for alto voice and piano.
It has changed hands a couple of times. The last known sale was at auction in 1872. It then disappeared for 140 years before surfacing in a private collection in the United States. Christies of London will auction it off later this month. It's expected to sell for up to $40,000.