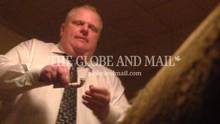 Toronto's embattled mayor says he's taking some time off to seek immediate help just as a new crack video and audio recording surface.
Rob Ford has released a statement.  He says "I have a problem with alcohol, and the choices I have made while under the influence.  I have struggled with this for some time."  Ford also announces, "I have decided to take a leave from campaigning and from my duties as Mayor to seek immediate help.  I have tried to deal with these issues by myself over the past year.  I know that I need professional help and I am now 100% committed to getting myself right."
On the audio recording released by the Toronto Sun, a man who sounds like Rob Ford makes lewd comments about fellow mayoral candidate Karen Stintz while in an Etobicoke bar on Monday.  He also complains about Ontario PC leader Tim Hudak for supporting the decision to fly the Rainbow flag at Queen's Park.  Listen to the entire audio recording on the Toronto Sun's webpage by clicking here.
The mayor told the Toronto Sun he didn't recall saying any of the things on the recording but confirms he was at the bar called Sullie Gorman's at Lawrence and Royal York on Monday.  Toronto Sun columnist Joe Warmington says he spoke with the mayor personally last night.  "He's worried about dying and he told me that…He's got children and he's worried about them.  I'm worried about them not having a father.  He also doesn't realize everything that he's saying, so when he hears it back on tape or hears the transcript, it looks bad.  And there's got to come a point, and I said to him, it's not the Toronto Star's fault and it's not the police's fault, it's your fault.  This is you."
There is an image on the fronts of all the Toronto newspapers of Rob Ford holding what appears to be a crack pipe.  The Globe and Mail is reporting that two of its reporters have seen a new video of Ford smoking what it said was described as crack cocaine by a drug dealer.  The Globe says the video was filmed in the basement of Ford's sister's home on Saturday.  The Globe says Ford is seen in the video inhaling from what appears to be a crack pipe and then his right arm convulses.  The Globe says the drug dealer offered to sell the video for six figures, but the Globe has not purchased the video.