Explosions from a massive fire woke residents up early this morning near Steeles and Airport Road in Brampton.  The blaze broke out before 5 o'clock at a storage facility on Thamesgate Drive where butane lighters and aerosol cans of bug spray were stored.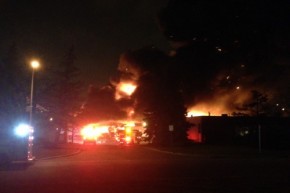 (photo credit: CITY NEWS/Bert Dandy)
There was a huge plume of black smoke at one point but firefighters have now been able to control the fire.  Constable Thomas Ruttan of Peel Police just explained that there are no safety risks for nearby residents.  "The smoke is actually going south over the CN Rail yards and over towards the airport," Ruttan explained shortly before 8 o'clock, "and at this point we have no concern in terms of toxicity of that smoke.  However, you would normally not breathe in the smoke."
Four people were injured including a firefighter who's in critical condition in hospital.
Roads are closed in the area of Airport Road and Steeles Avenue. The fire is not affecting operations at Pearson Airport.