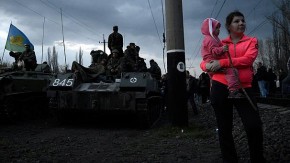 Fighting between pro-Russian militants and Ukrainian troops has turned deadly in eastern Ukraine.
Ukraine's interior minister says 3 pro-Russian insurgents have been killed and 13 wounded after Ukrainian troops repelled an attack on a national guard base in Ukraine's Black Sea port of Mariupol.  Arsen Avakov said in a statement today that a crowd of some 300 men attacked the base with molotov cocktails late yesterday but were repelled by the national guard and police forces.  63 people were arrested and most of the attackers were disarmed.
U.N. Assistant Secretary General for Human Rights Ivan Simonovic warns that Russia's decision to annex Crimea mirrors the unrest in eastern Ukraine.  "The presence of paramilitary in so-called self defense groups, as well as soldiers in uniform without insignia, was not conducive to an environment which voters could freely exercise their right to hold opinions."
A well-armed, Russia-backed insurgency has sowed chaos in eastern Ukraine in the past weeks.  Militants have seized police stations and administrative buildings in at least ten towns in the region, including Mariupol.
Diplomats from Ukraine, the U.S., E.U. and Russia are meeting today in Geneva to discuss the crisis.