A book by the late author Will Durant long thought lost is being released.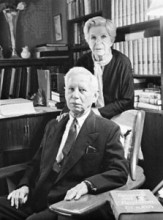 Durant and his wife, Ariel, became famous through their eleven-volume series, The Story of Civilization. It was released between 1935 and 1975 and won the Pulitzer Prize.
During interviews in the Seventies, Durant talked about a book called Fallen Leaves: Last Words on Life, Love, War, and God.
But the book was never published. In fact, the manuscript was thought to be lost  until recently. The Durants' granddaughter found it among some papers in her attic.
The couple died within weeks of each other in 1981.
Will Durant's Fallen Leaves will be published in December.