An actress has died who will be remembered less for her career than for the man she married.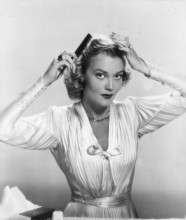 Patrice Wymore made her movie debut in Tea For Two with Doris Day and Gordon MacRae  in 1950. The same year, she starred opposite Errol Flynn in Rocky Mountain. She was 24; Flynn was 41. They married later that year.
In 1955, Wymore put her career on hold to care for Flynn, whose history of drug and alchohol abuse were taking their toll. After he died in Vancouver in 1959, she returned to acting in film and television.
She retired in 1967 and moved to the 2,000-acre cattle ranch in Jamaica Flynn had left her. She died there on Saturday at the age of 87.