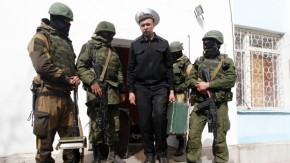 Pro-Russian forces in Crimea have taken possession of the Ukrainian navy headquarters in the Black Sea port of Sevastopol.  Ukrainian serviceman have reportedly packed up and left the headquarters after unarmed Crimean forces stormed the headquarters and raised the Russian flag.
Russian President Vladimir Putin ignored sanctions imposed by the West and went ahead yesterday with the annexation of the Crimean peninsula from Ukraine.  Hours later, a gun battle broke out in Crimea when pro-Russian gunmen attacked a Ukrainian military building, leaving a Ukrainian soldier and one of the attackers dead and three others injured.
A demonstration was organized by the Ukrainian Canadian Congress outside the Russian Consulate at Toronto's Bloor and Church last night. Spokesman Markian Shwec said yesterday's events are reminiscent of the escalation of violence in Kyiv last month, "when demonstrators went out and the government forces started attacking them.  Yanukovych and his goons called out sharp shooters, they called out police, started beating people and killing them until the 100 died.  And this is the same thing, starting to escalate in Ukraine, so we want to bring a stop to it immediately in Crimea.  Two people have been killed; one soldier and one Crimean Tatar already.  We want to make sure that no one else dies, no one else needs to die.  They don't need to attack anybody."
Ukrainian Prime Minister Arseniy Yatsenyuk called the attack a "war crime" and warned that the conflict is moving from a political one to a military one because of Russian soldiers.