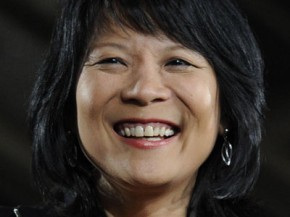 The Olivia Chow guessing game is coming to an end.  Chow resigned as MP for Toronto's Trinity-Spadina riding this morning, clearing the way for her to announce her run for the office of Toronto's mayor.  Chow's campaign to unseat Rob Ford is expected to start tomorrow morning in St. James Town, the inner city neighbourhood where she grew up.
Olivia Chow is the widow of late Federal NDP Leader Jack Layton.  She spent 15 years as a Toronto city councillor before becoming an MP in 2006.
She will become the first credible socially progressive candidate in the race for Mayor, which comes to an election on October 27th.  The other high profile candidates are fiscal conservatives.  In addition to Rob Ford, John Tory, Karen Stintz and David Soknacki have already declared their candidacy.