There's an old theatre adage that was supposedly the deathbed phrase of Shakespearean actor Edmund Kean: "Dying is easy; comedy is hard."
Actor Jefferson Mays has set a record for doing both.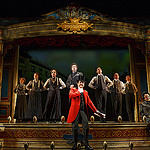 Mays is one of the stars of the Broadway comedy A Gentleman's Guide to Love & Murder.
The show is about an an impoverished man who discovers he's ninth in line to inherit a fortune, so he decides to eliminate the eight heirs ahead of him. The Tony award-winning Mays plays all eight victims, two women and six men.
He's been dying eight times per show, eight shows per week, since October. Yesterday afternoon, Mays was bumped off for the one-thousandth time. That's believe to be a record for the shortest time in which a leading actor has reached that number of onstage deaths.