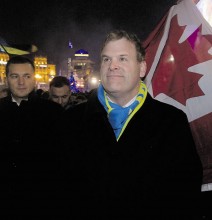 Canada's Foreign Affairs Minister paid a visit today to Maidan Square in Ukraine's capital of Kyiv.  John Baird offered tribute to the dozens of Ukrainians who were killed there in last weeks protests that led to the toppling of then president Viktor Yanukovych.  Baird said walking through the square was "an emotional experience" but he says he's optimistic about the future for Ukraine.  "Minority rights will be very important.  I know the new government will want to build a country that's inclusive of everyone.  They were citizens in a country where everyone didn't take that view."  Baird is meeting today with the various new leaders in Ukraine's government.  He's also pledging $200,000 in medical aid from Canada for Ukrainians caught in recent violence.
Ukraine's parliament is asking the U.N. Security Council to address the country's political turmoil. Legislators in Kyiv today passed a resolution calling for a Security Council session amid growing tension in the southern Crimea region.  Today, two airports in this pro-Russian area of Ukraine have been seized by armed men. The gunmen have not been confronted by Ukrainian police officers, but the area where they are patrolling has been cordoned off.
Meantime, fugitive Ukrainian president Viktor Yanukovych has appeared in public for the first time in 6 days.  He told reporters in Russia today he "intends to keep on fighting for Ukraine's future" against new Ukrainian authorities he described as "pro-fascist thugs."   Ukraine's Prosecutor General says preparations are underway to seek extradition of  Yanukovych.  He is wanted on suspicion of mass murder last week's violent clashes between protesters and police, in which more than 80 peple were killed.  Yanukovych fled the capital Kyiv last Friday, after anti-government protesters seized control of the capital and parliament.