Elaine Stritch is returning to New York — in a way.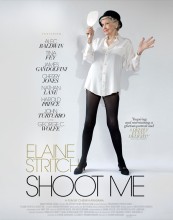 A new documentary called Elaine Stritch: Shoot Me premieres in New York City tonight. It was created by filmmaker Chiemi Karasawa. She says she and Stritch met through their hairdresser, who told Karasawa she had to make a film about the Broadway legend.
The film features commentary from several of the people Stritch has worked with in her long career, including Alec Baldwin, Hal Prince, Nathan Lane, and the late James Gandolfini. Baldwin is the Executive Producer on the film.
Stritch recently retired from performing, because she said she was finding it too hard. She left New York for her home state of Michigan.
Elaine Strich just celebrated her 89th birthday.