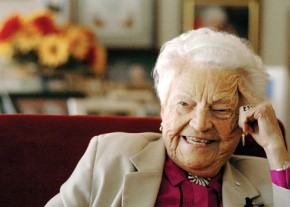 Mississauga's favourite Valentine is celebrating a birthday today!  Longtime mayor Hazel McCallion is 93 years old.  She's busy as usual with meetings at Mississauga City Hall, then she's off to open The Fishing Show at the International Centre.  "So, I'm busy," she told CP24, "and then I have a luncheon with business people.  Then this afternoon, I'm going to the Walden Circle Retirement Home.  It seems they're putting on quite a special session for me with a lot of press there."
This is Mayor Hazel's final year in office, but she has no plans to coast for the rest of her term.  "The federal government's come out with a new infrastructure program so I'm going to meeting with staff today to see how we get our applications in for the projects that we want them to look at," Mayor Hazel explained.
Hazel McCallion has been mayor of Mississauga for 35 years.