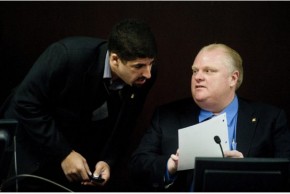 Rob Ford's former campaign mastermind is reportedly backing potential mayoral rival John Tory.  Nick Kouvalis was at Ford's side during his winning 2010 mayoral campaign.  He is credited with helping fashion the Ford Nation movement with slogans such as "Stop the Gravy Train" and "Respect for Taxpayers".  Those close to the John Tory organization say the high profile political operative has been acting as an adviser, talking to Tory about why he should run and how he might shape a campaign. City Councillor Jaye Robinson is one of those close to Tory.  She says, "its very telling that the man who successfully brought Rob Ford to power is now on John Tory's team."  So far, Tory has not declared an intention to run against Mayor Ford in the October election.
Meantime, there appears to be new insight into the police investigation of Toronto's embattled mayor.  The Globe and Mail is reporting that police applied for search warrants on November 29th of last year for seven cellphones and one computer from Project Traveller; a drug and gang investigation that centred on an Etobicoke housing complex.  Project Traveller led to a subsequent investigation of the mayor and his friend Alexander Lisi, dubbed Project Brazen 2, and an extortion charge against Lisi involving a video alleged to show Ford smoking crack cocaine.  The November warrant applications were listed in a document provided to media lawyer Peter Jacobsen who is fighting in court to have details of those applications made public.  Jacobsen says he hopes the warrants contain information on the extortion charge against Lisi who was arrested on October 31st, the same day Police Chief Bill Blair said that police had found the alleged crack video.
Also in news on Rob Ford, inspectors with British Columbia's Liquor Control and Licensing board are investigating claims that Toronto Mayor Rob Ford was recently served a bevy of alcoholic drinks after hours at a Vancouver area pub.  The Board's Associate Deputy Minister has also confirmed that the pub in question, the Foggy Dew, in suburban Coquitlam, has been contacted.  The mayor of Coquitlam says he is entirely comfortable with any steps that police and licensing officials decide to take, while noting it was not his role to initiate or direct an investigation.  On the night in question, Ford was ticketed for jaywalking at about 10 o'clock on January 31st while crossing a street near his hotel.  Reports indicate Ford went to the Foggy Dew around midnight and disappeared into a washroom for about an hour and then when he came out, was speaking gibberish.  It was over the next hour, Ford and his 3 guests were said to have ordered rounds of beers, rum and cokes and shots of Jack Daniels.