She was one of the biggest movie stars of the 1930s long before she was old enough to sign her name on a contract.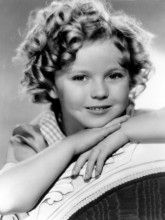 Shirley Temple has died in San Francisco. She began appearing in films at the age of three and starred in pictures such as Bright Eyes, Curly Top, and The Littlest Rebel, singing her signature songs On the Good Ship Lollipop and Animal Crackers in My Soup. She was Hollywood's biggest box office star in the mid-Thirties, out-drawing such adults as Clarke Gable and Bing Crosby.
Temple retired from movies at the age of 21. But that meant her career lasted 18 years, more than enough to receive a lifetime achievement award from the Screen Actors Guild in 2006. In accepting the award, she told SAG members, "I have one piece of advice for those of you who want to receive the Lifetime Achievement Award: start early!"
After a brief marriage to actor John Agar, Shirley Temple married businessman Charles Black in 1950. He confessed after their wedding that he had never seen any of her films. They were together until his death in 2005. She also served as the American Ambassador to Ghana and Czechoslovakia.
Shirley Temple was 85.