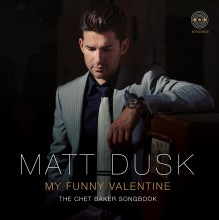 International superstar Michael Buble is among the top contenders for this year's Juno Awards, celebrating the best in Canadian music.  Buble has been nominated for five awards including Pop Album of the Year and Artist of the Year.
In all, there are more than 200 nominees in over 40 categories, including Matt Dusk, another one of our favourites here at Zoomer Media!  The Toronto crooner is up for vocal jazz album of the year for My Funny Valentine: The Chet Baker Songbook.  "I've been very fortunate to be in the music business for about for almost twenty years and great success has been met with even greater failure," Dusk told Zoomer Media's Bob Komsic, "so it comes down basically the odds of constantly getting better, putting out material, and if it connects.  I mean, if you look at most successful people, they are congratulated on their successes."
35 year old Dusk expects to be singing well into his zoomer years.  "As a jazz musician twenty years, I'm a baby," Dusk laughs, "It's like I'm just getting out of kindergarten.  You look at the careers of Tony Bennett, still performing at the age of 87.  That's almost six decades, so I've got a long way to go, but with jazz, it's kind of like wine.  Hopefully, I don't cork along the way."
The Junos will be handed out March 30th in Winnipeg.  Click here for a full list of nominees.