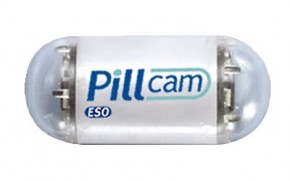 Imagine being able to swallow a pill that works as a camera to detect early signs of colon cancer.  Such a thing actually exists!  The U.S. Food and Drug Administration has approved an ingestible pill cam that can help doctors screen the large intestine for polyps and other early signs of colon cancer.
The technology uses a battery-powered camera to take high-speed photos of the intestinal tract over the course of eight hours.  The images are transmitted to a recording device worn around the patient's waist and later reviewed by a doctor.
The PillCam Colon from Given Imaging is designed for patients who have experienced an incomplete colonoscopy.
(The Associated Press)