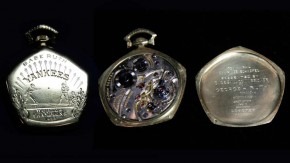 For decades it was thought to be lost to history.  Babe Ruth's 1923 World Series championship pocket watch is coming to a New York City auction, where it's expected to fetch at least $750,000.
Ruth batted .368 and hit three homers in the 1923 World Series as the New York Yankees won the championship by beating the New York Giants in six games. It was a pivotal year for the franchise, as it moved into Yankee Stadium and won its first of 27 World Series championships.
At the time, winning players received watches, which later were replaced by rings, which are still the standard.
The five sided gold timepiece is being sold at Heritage Auction's Feb. 22 sale.