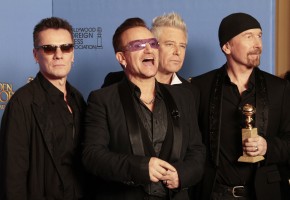 Bono says winning a Golden Globe award last night ends his long journey with former South African president Nelson Mandela. Bono played an anti-apartheid concert more than three decades ago. And he says winning the honour shortly after Mandela's death brings their relationship full circle. U2 and Danger Mouse won the honour for Ordinary Love, which was recorded for the movie, Mandela: Long Walk To Freedom.
Bono says Nelson Mandela was a person who, after being jailed for 27 years for fighting the racist South African government, "refused to hate not because he didn't have rage or anger or those things, but that he thought love would do a better job."
For a complete list of the Golden Globe winners click here.