The duo who created a hit live televised Broadway musical are bringing another show to the big screen.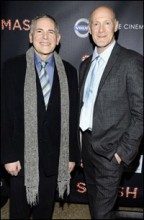 Craig Zadan and Neil Meron produced the recent Sound of Music Live broadcast that drew a big audience to NBC. Now, it has been announced that Zadan and Meron will team up with the Weinstein company to produce a film version of Pippin.
The musical by Stephen Schwartz won the Tony Award this year for best Broadway revival.
It's not the first time Zadan and Meron have worked with the Weinsteins. They collaborated on the Oscar-winning movie version of the musical Chicago.
Other credits include the recent behind-the-scenes Broadway TV series Smash.
Zadan and Meron are also producing the Academy Awards show.
There is no word yet on when the movie version of Pippin will be released.