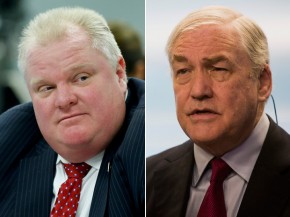 The whole media world is abuzz with the news that Conrad Black is going to be interviewing Rob Ford on our sister station, Vision TV.  The former media baron, now co-hosts The Zoomer, a current affairs show Monday nights at 9.
In a National Post column last month, Black offered a defense of Mayor Ford, who has admitted to smoking crack cocaine.  In his inimitable style, Black wrote that despite what he called Mr. Ford's "inflammatory malapropisms", "nothing has come to light that disqualifies him from fulfilling the mandate his electors gave him."
The conversation between the erudite Mr. Black, and Ford – who presents himself as a scrappy regular guy – should be interesting.  Black's interview with the embattled mayor will take place this week.  Stay tuned to The New AM 740 and The New Classical 96.3FM when we announce the air date.