Israel has one of the highest rates of breast cancer in the world because of a prevalent cancer gene.  But the good news is that mortality rates are very low, in part because of intense screening.  "In the Ashkenazi Jewish community, which are from central and eastern Europe, it's 1 in 40 that will have it, and that's much much much higher than in the general population," says ZoomerMedia's Libby Znaimer.
Libby Znaimer not only has the gene, but has survived both breast cancer and pancreatic cancer.  In a television appearance last night, Libby explained that there is a debate underway in Jewish communities on whether to test all women for the cancer gene.  "If you have a first degree relative or relatives who have had breast cancer and ovarian cancer, and at a young age sometimes.  So there are conditions.  Not everybody has to be tested.  They can give you  a questionnaire.  But there are very interesting debates that just seem to have mushroomed."
The conflict comes in what to do if you have the cancer gene.  Women who test positive for mutations in the BRCA1 and BRCA 2 genes, are strongly encouraged to complete child bearing by their late 30s so they can have their ovaries removed by age 40.  Risk-reducing mastectomies are also offered.  Research shows women with these mutations are four to five times more likely to develop aggressive breast cancers.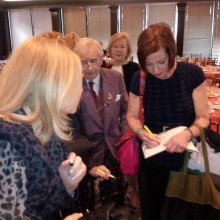 (photo credit: Jane Brown, ZoomerMedia)
Libby Znaimer is the Vice President of News at AM 740 and Classical 96.3FM, the host of The Zoomer Report.  Libby is also the author of  In Cancerland: Living Well is the Best Revenge. (Key Porter Books)