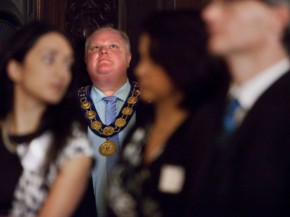 Rob Ford told Toronto city councillors they had waged war against him on Monday when they reduced most of his mayoral powers.  It seems at least one councillor is ready to go to battle with the embattled mayor.  Michael Thompson introduced Ford at an economic development event at Casa Loma last night with less than friendly comments. "I want to assure you that we will not let the personal failings of one or two people reduce our momentum or drag our city down," said Thompson.
But Ford brushed off the comments, thanking Thompson for "his kind words" to much laughter from the audience.  The Mayor also made fun of himself when he detailed some of the money he's saved the city since he took office.  "We reduced council and the mayor's budget by 6.4 million dollars over four years, and even more in the last three days," he laughed, "I didn't support the last three days."  Ford was referring to the historic vote on Monday, when council voted to strip the mayor of most of his powers and substantially reduce his budget.
Ford also repeated his claim that he has saved more than a billion dollars since taking office. But analysts say his claim doesn't stand up. For example, he includes the amount taxpayers saved by eliminating the vehicle registration tax. But that loss in revenue for the city had to be made up elsewhere.
Ford also told the audience last night that he is reducing the city's debt by more than $800-million. In fact, Toronto's debt will have increased by 83 per cent in 2018 over 2012. The reality is that the Mayor's plans will add $800-million less to the debt increase.
In addition, Ford said he was keeping Toronto tax increases lower than any other city in North America. The Globe and Mail points out that Windsor and Winnipeg have frozen property taxes, while Toronto's rate will have increased more than six per cent under Ford's watch by next year.
Finally, Ford told the audience last night that he had made Toronto an economic powerhouse. That drew laughter from the crowd of developers, because the city has been booming since before he took office.
Norm Kelly says future speaking engagements like the one at Casa Loma last night will involve him rather than Ford.  Kelly says the invitation for last night's engagement likely went out before this past week's events.
Rob Ford is also making news about a domestic assault call to his home in August.  The Toronto Star reports that court documents reveal, the call disrupted a nearby police sting involving alleged drug dealer and Ford friend, Alexander Lisi.  The Star says Ford left his home after the domestic assault and checked in to the Grand Hotel on Jarvis Street for 3 nights.  According to the police documents, Ford attended Prime Minister Harper's Conservative Barbeque at Sunnybrook Park during that time, and Lisi also paid a visit to the hotel on the first night.  The Star says the late August call to Ford's home is one of a number of domestic assault calls over the past 8 years.
(Photo credit: National Post)