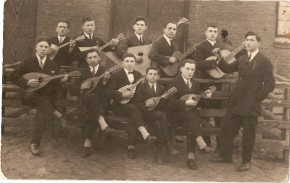 It's a living musical monument to victims of the Holocaust.  A very special mandolin orchestra performed at Toronto's George Weston Recital Hall on Thursday night.
The Ger Mandolin Orchestra has been revived, some seven decades after most of the members of the original orchestra were killed in the Holocaust.  Eric Stein is the co-founder of the orchestra and the artistic director of the Ashkenaz Festival.  He tells AM 740/Classical 96.3FM News, it's important to present this music during Holocaust Education Week.  "The concert gives us an opportunity to remember how Jews lived, not how they died.  This is an amazing musical format that used to be really popular in Jewish life, and not many people know about it.  It's something that's been off the radar for a number of decades.  This concert gives us an opportunity to bring it to light, and create a joyous occasion where people celebrate music and remember the cultural riches of eastern Europe before the Shoah."
There were a number of Holocaust survivors in the audience including Sheila Abraham.  She says it's important to remember the happy times even when reflecting on the horrors of the Holocaust.  "Yes it is, because we don't have to be only sad.  We have to remember nice, happy things.  We shouldn't forget.  We should never forget our roots and our old music.  It should always be remembered.  And I'm very happy that they brought it back."
For more information on the Ger Mandolin Orchestra, click here.  Libby Znaimer will have much more on Remembrance Day and Holocaust Education Week on The New AM 740's Zoomer Week in Revew Sunday November 10th at noon.