The most successful Broadway musical of the new millennium is celebrating its 10th anniversary tonight.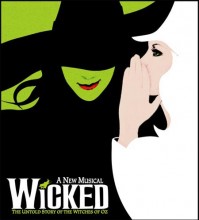 Wicked was written by Stephen Schwartz with book by Winnie Holzman, telling the story of the two young witches in the land of Oz who go on to become Elphaba, the Wicked Witch of the West, and Glinda, the Good Witch of the North. It opened on October 30th, 2003, with Idina Menzel as Elphaba, Kristen Chenoweth as Glinda, and Joel Grey as The Wizard of Oz.
Wicked struck an immediate chord with young girls, with its themes of teen angst, relationships, being different, fitting in, competition for romance, and girl-power. Kind of like Anne of Green Gables for the 21st Century.
So Wicked has been packing them in ever since. It has broken box office records wherever it played, and then frequently surpassed its own records. Last week it was still the third-largest grossing show on Broadway, taking in more than $1.7-million. Only The Lion King and Book of Mormon took in more – primarily because they charged more.
Wicked is the eleventh longest-running show in Broadway history.