Days ago, Ontario's top doctor urged everyone to wear a mask in certain settings. Check out his full comments here. 
"I'm strongly recommending that all Ontarians, not just those at high risk, wear a mask in indoor public settings," urged Dr. Kieran Moore on Monday, November 14th.
Fast forward just four days.
Now the Chief Medical Officer of Health  is taking some heat for going  maskless at an indoor party hosted by Toronto Life Thursday night, just days after pleading with everyone to mask up indoors to prevent spreading illness amid overwhelmed children's hospitals.
At Monday's news conference, Dr. Moore said he's "very concerned" about protecting children right now and the best protection is through masking in any social situation.
Video circulating online shows Dr. Moore standing next to several other attendees who were also maskless.
The magazine hosted a party to celebrate its list of the 50 most influential Torontonians. Dr. Moore placed 12th, for "keeping COVID under control."
In a statement, the Ministry of Health said Dr. Moore evaluates the risk of each situation, including private events. A ministry spokesperson said "he follows many layers of protection including screening daily for symptoms of any respiratory infection, practicing good hand hygiene, staying up to date on immunizations, and masking when necessary and distancing when possible."
Mayor John Tory — a strong proponent of strong public health measures during the pandemic — also attended the event without a mask, posing for a photo on his official Twitter account.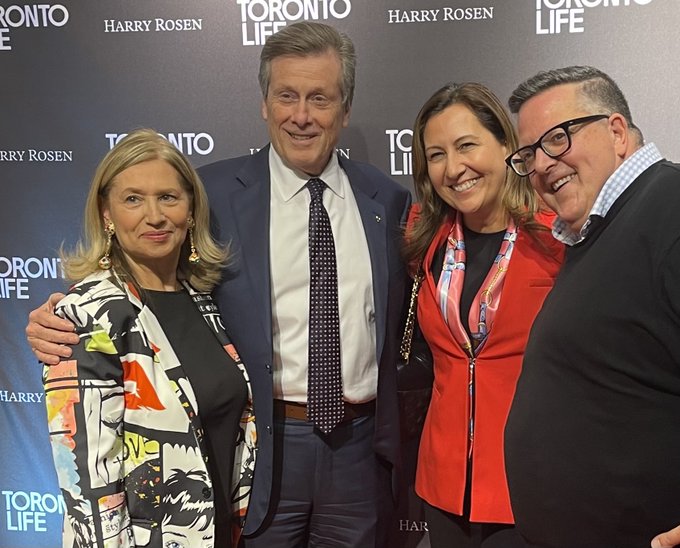 Speaking in Timmins earlier, Doug Ford – who also made Toronto Life's most influential Torontonians at number three -says masking in Ontario is a personal choice.
The Premier said that "people of Ontario have been through 2.5 years of this, they know if they need a mask, they know if they don't need a mask — that's going to be up to them."
But many are calling the top Doctor tone deaf including critical care physician Dr. Michael Warner who took to Twitter to call out the chief medical officer for not following his own advice.
Some  children's hospitals had to cancel non-urgent surgeries in order amid a spike in admissions to intensive care that are operating over capacity.
Premier Doug Ford and most of his cabinet appeared maskless in Queen's Park this week just days after the public masking recommendation.