The former anchor of CBC's nightly news cast has died.
Stanley Burke – who hosted the National News from 1966 to 1969 died at the age of 93 in Kingston, Ontario Saturday.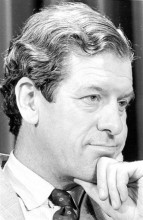 Burke was also a foreign correspondent reporting for the National Broadcaster from Berlin just afer the barricades went up separating East and West Germany in 1961.
He also authored several children's books.
Burke will be remembered during a memorial service June 2nd on Amherst Island near Kingston.