TTC Chair Josh Colle says there's a revised plan in place with Bombardier to get new Street cars on the road, soon. The TTC has only received four new street cars since August with the plan originally calling for 43 to have arrive this past December. With that, the two parties have agreed to new numbers and dates of deliveries. The hope is to see 30 cars delivered by the end of 2015.
"We have paid Bombardier a billion dollars; we need to get those cars on the road," Colle said. "I'm glad to see that they have given us a revised delivery schedule but at the same time I am going to push for more of those cars. They have our money in hand and they should be delivering them."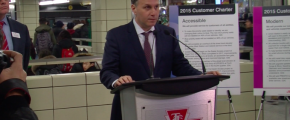 Colle says he doesn't want to get into a spat with Bombardier, but he will not stop pressuring them since the billion dollars has been paid up. The City ordered 204  new vehicles in June 2009 with Bombardier promising to complete by 2019.