Christoph Eschenbach, the controversial music director of the National Symphony Orchestra and The Kennedy Center, will step down from his post in the 2017-18 season after seven years.
Eschenbach has held down numerous prestigious posts including chief conductor of the Tonhalle Orchestra Zurich, Music Director of the Houston Symphony Orchestra, Orchestre de Paris, Philadelphia Orchestra and now the National Symphony Orchestra and the Kennedy Center for Performing Arts in Washington, D.C.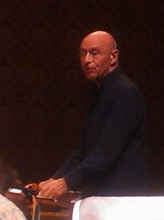 He is only the sixth to ever hold down the position. However, many question Eschenbach's contributions to the NSO and The Kennedy Center, boasting one of the highest conductor salaries in the United States. Many accuse Eschenbach of being a relatively average, if not boring, conductor who has not done much to elevate the NSO to its full potential.
The search has officially begun to fill his position.