Zoomer actor Michael Douglas will received the George Eastmans Award for his contributions to the film industry. The Academy award winner has produced and acted in over 75 TV series and films, including 1987's, "Wall Street" which won him an Oscar for Best Actor. He also won an Oscar for best film, co-producing "One Flew Over the Cuckoo's Nest" in 1975 starring Jack Nicholson.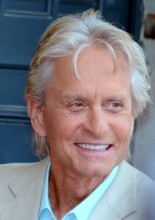 The 70-year old Douglas will receive the award May 14th following by a black-tie gala at the Rochester museum dedicated to photography and motion picture.
The George Eastman House established the Award for distinguished contribution to the art of film in 1955, as the first film award given by an American archive and museum to honour artistic work of enduring value. Initially, the award was presented to actors, actresses, directors, and cinematographers for silent films.Previous winners include Charlie Chaplin, Gregory Peck, Merle Streep and Richard Gere.