Grammy winning Canadian singer Joni Mitchell has been hospitalized in Los Angeles, but it's not yet known why or what condition she's in.
Her website and Twitter account say she "was found unconscious in her home" yesterday but regained consciousness on the ambulance ride to an L.A. area hospital.
The statement says the 71-year-old singer-songwriter is awake and in "good spirits."  She is undergoing tests in the intensive care unit.
The Woodstock-generation singer-songwriter was born in Fort Macleod, Alberta and is best known for her hit Big Yellow Taxi.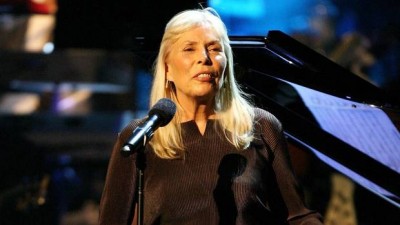 Mitchell no longer performs because of a rare skin condition, but released a career-spanning, four-disc box set last year.
Joni Mitchell has received eight Grammy Awards, including a lifetime achievement award in 2002. She was inducted into the Rock and Roll Hall of Fame in 1997.
She has a star on Canada's Walk of Fame in Toronto and a commemorative stamp, and is a companion of the Order of Canada.