Montreal Canadiens' legend Jean Beliveau has died. He was one of the best players in the history of the NHL and viewed as the greatest gentleman.  Beliveau won 10 Stanley Cups as a player with Montreal.  He died last night at the age of 83.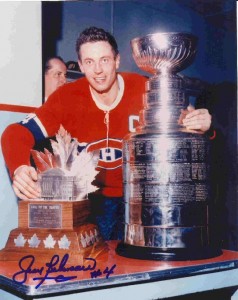 The Prime Minister is among those weighing in on Twitter with condolences. A hockey fan himself, Stephen Harper tweeted, "It is with sadness that I learned of the passing of Jean Beliveau. He was a true legend and a class act.  My thoughts are with his family."
P.K. Subban of the Montreal Canadiens tweets, "I met Jean Beliveau when I was 10 years old.  That's when I knew I wanted to play for the Canadians.  A hero and hockey's captain. #RIP"
In this clip from the Hockey Legends series on The History Channel, Beliveau said team success always mattered to him more than personal goals.
Mr. Beliveau, as he was called in recognition of his class and stature, won the Hart Trophy as the NHL Most Valuable Player twice. In 1,125 games, Beliveau scored 507 goals and 712 assists.  He then moved into an executive position with the club and was inducted into the Hockey Hall of Fame in 1972.
Beliveau was highly respected in Ottawa.  He turned down an offer in the 1980's to sit in the Senate and in the 1990's to be Canada's governor general.