Jian Ghomeshi is staying at his mother's home in Thornhill as a condition of his bail, after the fired CBC radio star once again made international headlines.  Ghomeshi's Toronto court appearance at College Park yesterday was covered by a crush of media.  He has been formally charged with four counts of sexual assault and one count of overcoming resistance by choking.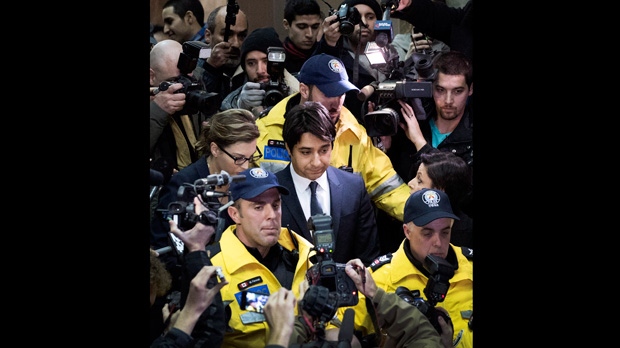 The 47 year old was once one of Canada's most in-demand cultural icons.  He's been released on $100-thousand bail, after turning over his passport and agreeing to remain in Ontario.  Ghomeshi is banned from possessing any weapons and must stay at least 500 metres away from his three accusers.
The salacious story began back on October 26th when Ghomeshi was abruptly fired form the CBC after executives were shown what they later said was graphic evidence which convinced them that Jian Ghomeshi caused physical injury to a woman.
The Toronto Star's Kevin Donovan says nine women came forward to tell their stories.  But as he told the New AM 740's Goldhawk Fights Back, most of them didn't want to go to the police.
"There are people that I've interviewed for both the first stories that we did and a story I'm working on right now, who have presented allegations to us, but have no intention of going to the police because they don't want their name dragged through this, and whether this will change anything, I don't know," Donovan explained to Dale Goldhawk on AM 740.
Toronto's police chief has declined to add any details about the case, although Bill Blair continues to urge any victims of sex assault to come forward to police.
Ghomeshi's next court appearance is scheduled for College Park on January 8th.