Clem just knew she was the one.
When he met Millie, growing up in the Bathurst-Dundas neighbourhood, he is said to have told his best friend, "I'm going to marry that girl."
And a few years later, he did.
And now Clem, 100, and Millie Mintz, 95, are recognized as being the longest married couple in the country.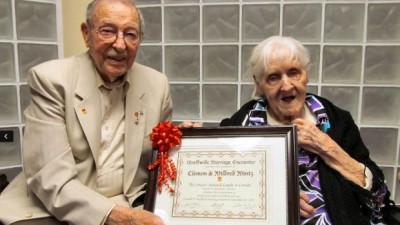 They marked the matrimonial milestone at their Parry Sound long-term care residence.
Millie's battle with Alzheimer's means they don't speak with one another the way they once did.
But Clem still spends all day talking to her and playing music.
Grandson Randy Higgins says their example's inspired him.
"With a foundation like that, it's hard not to be family oriented and cherish those kinds of things."