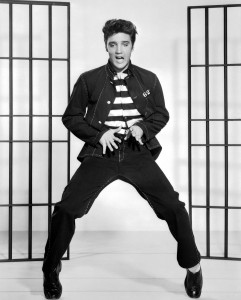 Recently, Priscilla Presley asked for the media not to compare Elvis to Miley Cyrus. She responded to comparisons that have been made that Miley Cyrus' controversial performance on the MTV Video Music Awards in August was similar to the initial outrage at Elvis Presley for his sexually-charged dance moves. She maintained that the Miley Cyrus controversy had no business being compared to Elvis' career.
In 1957, after a show in Los Angeles, Elvis Presley was told by local police that he was not allowed to wiggle his hips while onstage. There was also a headline ran in the local press the next day that said Elvis would have to clean up his act if he wanted to continue performing.
The next night, The Los Angeles Vice Squad filmed his entire concert to study his performance and make sure that it met their guidelines.
In the 1950s, Elvis Presley's shaking and grinding of his hips and legs were considered vulgar by some, earning him the nickname "Elvis the Pelvis." Many people say that these hip movements and gyrations were not planned as some sort of attention grabbing hoax, but rather came as a result of Elvis' form of expression. During his performances, he would dance however he felt was appropriate and the hip movements became quite popular.
As Elvis told TV Guide in 1956: "I just get kinda in rhythm with the music. I jump around to it because I enjoy what I'm doin'. I'm not tryin' to be vulgar, I'm not tryin' to sell any sex… I just enjoy what I'm doin' and tryin' to make the best of it."