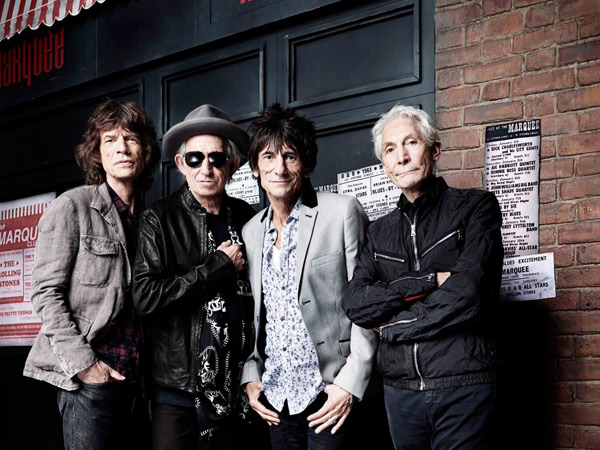 It was fifty years ago today that The Rolling Stones played their first gig. The band debuted as the Rollin' Stones at the Marquee Club in London with the original lineup of Mick Jagger, Brian Jones, Keith Richards, Ian Stewart, Dick Taylor and Tony Chapman.¹
The current lineup of Ron Wood, Charlie Watts and founding members Mick Jagger and Keith Richards  gathered outside the Marquee Club on Wednesday to mark the group's golden anniversary. It was the first time the Stones had been photographed together since the 2008 premiere of Martin Scorsese's doc, Shine A Light. 
When asked about this milestone Keith Richards told Rolling Stone Magazine "Man, I don't count! The Stones always really consider '63 to be 50 years, because Charlie didn't actually join until January. So we look upon 2012 as sort of the year of conception. But the birth is next year."
[Related: Rolling Stones at the El Mocambo]
We wanted to look back at the early days of the Rolling Stones so we've put together a list of their Top Ten charting hits from the first five years:
10. The Last Time – No. 9 in 1965

9. Have You Seen Your Mother, Baby, Standing in the Shadow? – No. 9 in 1966

8. Mother's Little Helper – No.  8 in 1966

7. Time Is On My Side – No. 6 in 1964

6. As Tears Go By – No. 6 in 1964

[Related: Top Ten British Artists]
5. 19th Nervous Breakdown – No. 2 in 1966

4. (I Can't Get No) Satisfaction – No. 1 in 1965

3. Ruby Tuesday – No. 1 in 1967

2. Paint It, Black – No. 1 in 1966

1. Get Off Of My Cloud – No. 1 in 1965

¹Fans remember the original drummer being Tony Chapman however in Keith Richards memoir Life he states that it was Mick Avory.
---