Starting September 4th, The New AM 740 and Vision TV have teamed up to take you out for a "Night in Britain" on Monday September 20 and you won't even have to leave the GTA. To celebrate the launch of two of the world's most popular British soaps "EastEnders" and "Emmerdale" weeknights on Vision TV this Fall.
The New AM 740 and Vision TV have lined up an English Double-Decker bus compliments of Shop Dine Tour Toronto to pick you up at the radio station, take you on a tour of the city – the CN Tower instead of Big Ben, Casa Loma instead of Buckingham Palace, Yonge Street instead of Piccadilly Circus, The Bloor Viaduct instead of London Bridge, and Roy Thomson Hall instead of The Royal Albert Hall.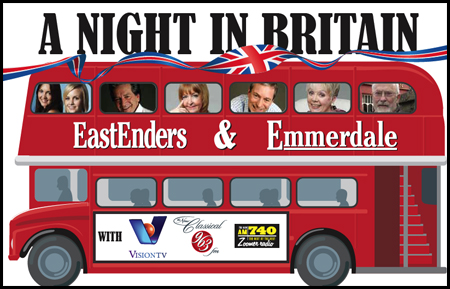 Then it's off for a night of beverages and good ole English grub – bangers and mash, fish 'n' chips, pot pie, English triffle and more at The Duke of York on Prince Arthur Avenue in Yorkville. There'll be an English Bobby and one of the Queen's guards to great you when you arrive…we'll have live English musical entertainment, and then you'll be treated to both episodes of Vision TV's new season of "EastEnders" and "Emmerdale" on a big screen .
To cap off this jolly ole night, you'll receive some British souvenirs to take home and then it's back to cross the pond on the Double-Decker to AM 740.
Listen weekday mornings to "The Happy Gang" and again on "Afternoon Express"…when you hear the "Rule Britannia" cue-to-call be the 7th caller to win your "AM 740 Night in Britain" from Vision TV and Zoomer Radio, The New AM 740.